Park Smarter with Parkmobile
Parkmobile provides a new, simpler way to pay for parking using your smartphone. With Parkmobile's mobile app, parking takes just a few seconds.

Parkmobile's mobile payments system is user-friendly and widely-available across platforms. Customers first must register by downloading the mobile app for iPhone, Android, or Windows phones, or online at www.parkmobile.com. Once registered, they may use the mobile app, internet, or for those without a smartphone – call the toll-free number listed on the green meter stickers and signs to pay for parking. After setting up their account, customers may immediately start using the system with their registered mobile phone.
Enforcement officers will be able to see that a motorist has paid with Parkmobile using a wireless handheld device and the parker's license plate number. If you're driving multiple vehicles, you can quickly change the license plate number for each parking session. Mobile app users may also choose to receive alerts and reminders prior to their parking session expiring.

ParkMobile Perks
• Easy to register and use
• Saves you time and money
• Extend your parking session on-the-go (when permitted)
• Multiple payment options
• Save "Favorite" and recently used zones
• See suggested nearby zones
• Set customizable parking expiration reminders
• Add up to 5 license plate numbers on your account at a time
---
Getting started is easy
Follow these 4 simple steps to download the app and setup your profile.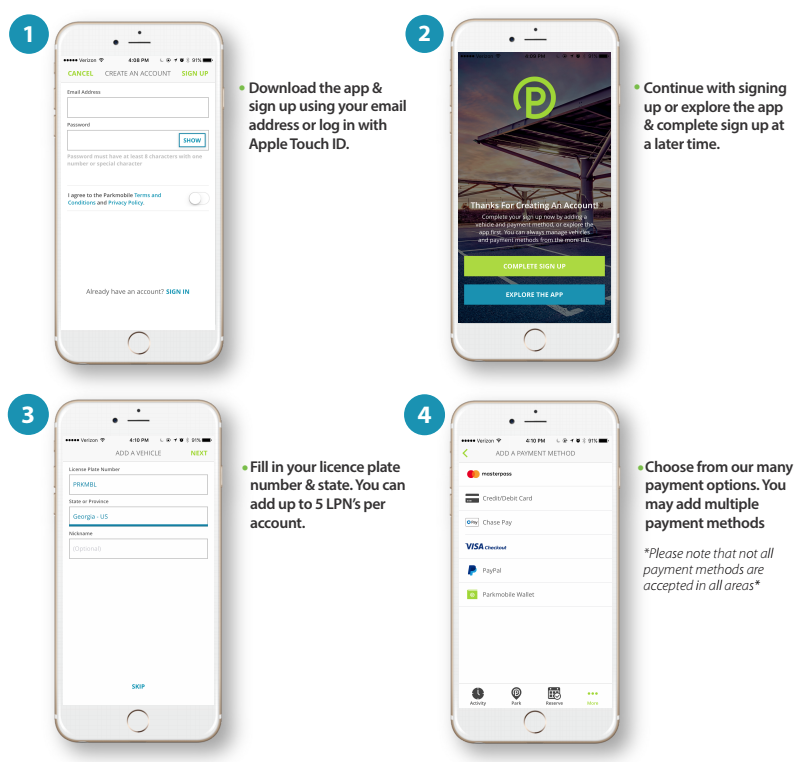 How to Pay & Park
Using Parkmobile is simple and intuitive. Follow these 4 easy steps to secure your parking session.